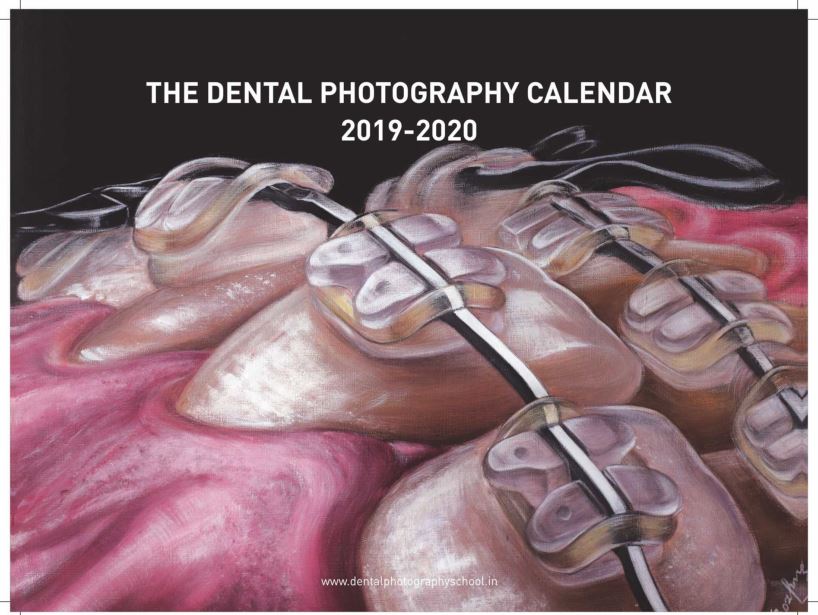 Dental photography calendar 2019
The dental photography calendar 2019-2020
Dental photography school released the 3rd edition of its calendar in January this year. The idea of world dental photography calendar was to encourage all dentists to undertake better documentation. Each year in November, dental photography school declares a contests which is open for dental professionals only. Each dental professional is allowed to send in two photographs of their work. Top 13 images are selected and published as a calendar.
For 2019 calendar, the event received entries from 18 countries.
"This year we saw a significant rise in participation as compared to the previous two years which means the concept has received a positive response and we have definitely caused a greater awareness among clinicians across the globe. I am grateful to our sponsors GC India, Edge endo and Green Park Dental who understood the value of this event and supported us with financing the project. This year in addition to photography we have also tried to encourage other forms of art like painting, doodling and writing by providing dentists having artistic skills a platform to showcase their skills.
The envelop which is one of its kind has a doodle by Dr. Amruta Sardeshmukh from Sangli.
The cover shot of the calendar has a hyper realistic painting by Dr. Tatyana Rozhdestvenskaya from Russia
The Calendar gully (stand) has quotes by Dr. Joohi Sharma, Punjab.
Total prizes worth Rs. 1,50,000 were distributed among winners.
The first prize was won by Dr. Frederique Ferrand from France.
"The calendar is a beautiful concept by Dr. Davda and it has pushed all the dentists to document better. Dentists are artists and the calendar provides for a perfect platform to showcase our art. I hope one day photography is taught in all dental colleges across the globe because it is so important to see our work up close and macro photography really helps us improve our work." – Dr. Frederique Ferrand
This is her Video 
Dental Photography is a combination of formal portraiture and macro photography. As of today photography has more than 50 applications in dentistry alone. Most of the dental photography is done using a DSLR, 100 mm macro lens and various flash systems. It also uses advanced lighting techniques like polarization, IR and UV (in forensic odontology)
Interestingly 90 % of dental photography is using a mirror and hence considered as one of the most difficult forms of photography.
"Our world is inside 3 finger width space, so we make it look as beautiful as we can, both clinically and in photography" – Dr. Mayur Davda..
This year in the dental photography calendar you will get: 
Premium 200 GSM art paper calendar with 32 sides (16 pages) from January 2019 to January 2020
1 Envelop (Laminated internally) that can be used as a painting on wall
4 Bookmarks
1 Annual Planner
Decorative stand with quote of original artist
Shipping charges included (For India)
Cost of the Calendar for India is Rs. 500/- and for other countries is Rs. 4000/-
Hurry book your dental
photography
calendar NOW ! (For India)